Machine Shop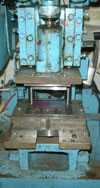 We can build parts to your specifications.
Metals shop:
steel, aluminum, brass, plastic etc.
Mill and grinder makes/repairs assemby fixtures and small stamping dies.
We can do one of a kind parts to short run production.
Small stamping dies, fixtures, repairs.
Equipment:
2-9" lathes, vertical mill, surface grinder, 5 ton press, drill press, vertical and horizontal band saws, welders, torches, and sand blaster

Threading flywheel


Flywheel

Sample parts

Threaded rollers

Stamping die

Bag assembly fixture
.