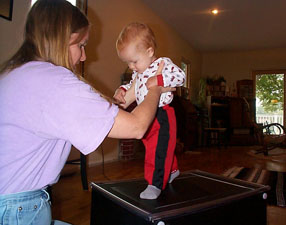 Pediatric Treadmill 2

Research by the Division of Kinesiology University of Michigan
www.umich.edu/~divkines/kinweb/research/research.htm
References Pediatric Vol. 108 No. 5 Nov 2001
www.pediatrics.org/cgi/content/abstract/108/5/e84
"Treadmills Help Babies With Down Syndrome"
from The U of M News Service:
http://www.newswise.com/articles/2001/11/DOWNS.UMI.html
"Treadmill Procedures Used in Our Clinical Trial"
from the Center for Motor Behavior in Down Syndrome, Division of Kinesiology, U of M http://www.umich.edu/~cmbds/treadmill.html
University of Michigan's video demonstration of our treadmill training
WMV File
Kalamazoo Gazette June 18, 2001
Popular Science April 2002
WOOD TV Health Report May 2, 2002

Treadmill 2 with optional GF1

INFANT TREADMILL 2

SPEED RANGE

0 - .6 METERS/SEC (very slow around 0-1.4 mph)

WEIGHT CAPACITY

75 lbs (34 kg)

SIZE
27 1/4" long x 18" wide x 11" high with wheels
692mm x 457mm x 279mm
WEIGHT

48 LBS (22 KG) 120v 60Hz ~ 240v 50HZ/60Hz

STANDARD FEATURES

1/8HP VARIABLE SPEED DC GEARMOTOR 120v/OPTIONAL 220-230v INPUT
SPEED CONTROLLER
RESETABLE CIRCUIT BREAKER
ROUNDED EDGES
TIMING BELT DRIVE
EXTERNAL TREAD BELT ADJUSTMENT
GFI PROTECTED
BLACK WOOD CASE
WHEELS - 2 RIDGED, 2 SWIVEL WITH LOCKS

OPTIONS

Call for pricing 269-651-3362 ask for Sam or
Email: sam@carlinscreations.com

Warranted for 90 days Parts and Labor. There are no other warranties either implied or expressed that accompany this product. The manufacturer is not responsible for injury resulting from the misuse of this product.

DISCLAIMER: THERE ARE NO WARRANTIES EITHER IMPLIED OR EXPRESSED THAT THE USE OF THIS UNIT WILL IMPROVE THE CHILD'S MOTOR SKILLS.
PEDIATRIC TREADMILL OPERATION AND WARNINGS


DO NOT GET THIS UNIT WET
DO NOT OPERATE WITHOUT ALL THE COVERS IN PLACE, SHOCK AND PINCH HAZARD
THE 4" x 14 1/2" SIDE COVER MAY BE REMOVED FOR INTERIOR CLEANING, REPLACE AFTER INSPECTION
THERE ARE NO USER SERVICEABLE PARTS INSIDE
THIS UNIT IS TO BE USED ONLY WITH ADULT SUPERVISION
DO NOT ALLOW UNSUPERVISED CHILDREN TO USE THIS UNIT!

TO TURN THE UNIT ON:

THE UNIT POWER SWITCH MUST BE OFF
THE SPEED DIAL MUST BE ALL THE WAY TO THE LEFT, OR OFF
LOCK THE SWIVEL CASTERS TO PREVENT MOVEMENT
TURN THE POWER SWITCH ON, IT WILL ILLUMINATE WHEN ON
THE SPEED DIAL WILL NOW WORK, SET TO THE DESIRED SPEED

SET SPEED 0 - .6 METERS/SEC 1=.1m/s
THE CHILD NEEDS TO BE WEARING FOOT PROTECTION

TO TURN THE UNIT OFF:

TURN THE POWER SWITCH TO OFF
TURN THE SPEED DIAL ALL THE WAY TO THE LEFT OR OFF



SPEED CONTROL - OPERATION:

SET SPEED 0 - .6 METERS/SEC
1 =.1m/s
AT FIRST STARTUP THERE WILL BE A SLIGHT DELAY IN BELT MOVEMENT

GROUND FAULT OPERATION: (OPTIONAL)

OCCASIONALLY TEST THE GROUND FAULT OPERATION
START BY TURNING THE UNIT ON AND PRESSING THE TEST BUTTON
THE BELT SHOULD STOP
THE POWER SWITCH WILL GO OUT AND THE RESET BUTTON WILL POP OUT, THE UNIT IS OK
TO RESET TURN THE POWER BUTTON OFF AND PRESS THE RESET BUTTON
IF THIS DOES NOT HAPPEN DO NOT OPERATE AND DISCONTINUE USE!

FUSES:

THERE IS A 8 AMP RESETABLE CIRCUIT BREAKER, PRESS TO RESET
IF IT NEEDS TO BE RESET FREQUENTLY DO NOT OPERATE AND DISCONTINUE USE!

BELT TRACKING:

THE BELT SHOULD TRACK DOWN THE CENTER WITH 1/4" CLEARANCE ON EITHER SIDE.
SHOULD THE BELT GET CLOSE OR RUB THE SIDES THE BELT NEEDS TO BE ADJUSTED
THE BELT ADJUSTING SCREWS ARE THE 1/2" HEX HEAD SCREWS AT THE POWER CORD END
DO NOT TURN THE ROUND SCREWS ON THE SIDE OF THE CASE
TO ADJUST TURN THE UNIT ON AND SET THE BELT SPEED TO 3
TURN THE BELT ADJUSTMENT SCREW 1/8 TURN CLOCKWISE ON THE SIDE THAT IS RUBBING
TURN THE OPPOSITE SCREW THE SAME AMOUNT COUNTER-CLOCKWISE
MAKE THESE SMALL ADJUSTMENT UNTIL TRACKING IN THE CENTER AGAIN

RESETTING THE SPEED DIAL SHOULD IT COME OFF:

RESET IT BY TURNING THE POWER OFF
TURN THE SPEED SHAFT FULLY TO THE LEFT COUNTERCLOCKWISE
RETIGHTEN THE DIAL SCREW WITH A SMALL SCREW DRIVER WITH THE LINE ON THE KNOB LINED UP WITH THE WHITE DOT AT THE BOTTOM OF THE SWITCH PLATE